Republican presidential candidate Nikki Haley has dubbed the U.S. Senate a "privileged nursing home" while urging Senate Minority Leader Mitch McConnell to retire over health concerns.
McConnell, 81, has twice over the course of roughly one month appeared to "freeze" and remain speechless for an extended period while taking questions from the press. The incidents have sparked increased speculation about the health of the longtime GOP senator from Kentucky, who was diagnosed with a concussion earlier this year after suffering a fall.
Haley, former South Carolina governor and U.S. ambassador to the United Nations, said during a Fox News interview on Thursday that McConnell's recent incidents were "sad," arguing that he and other aging politicians should be subject to cognitive tests and potentially be barred from holding office if they are no longer "at the top of their game."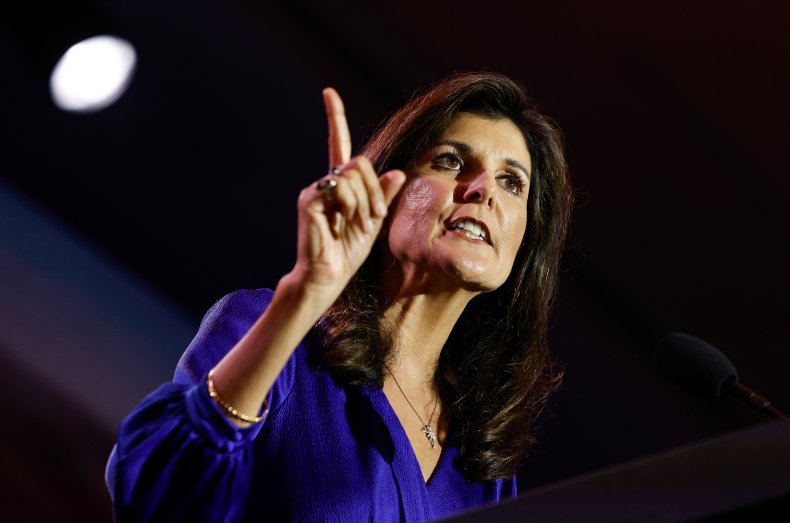 "It's sad," said Haley, who is 51. "No one should feel good about seeing that … Right now, the Senate is the most privileged nursing home in the country. I mean, Mitch McConnell has done some great things and he deserves credit. But you have to know when to leave. That is why I'm strongly in support of term limits in this country."
"I think that we do need mental competency tests for anyone over the age of 75 … We need to know they're at the top of their game," she continued. "We need to start getting new faces, new voices, younger generations involved in our government. And we need to have everybody else understand when it's time to go."
Newsweek reached out for comment to McConnell's office via email on Thursday night.
McConnell's first public "freezing" incident came on July 26, when he abruptly stopped speaking in the middle of a sentence during a press conference in Washington, D.C. He remained silent for around 20 seconds, staring into the distance, before his Republican colleagues intervened and whisked him away.
While aides to the senator claimed that the July incident was caused by dehydration, McConnell on Wednesday again appeared to seize up for an unusually long period after a reporter in Covington, Kentucky, questioned him about running for reelection in 2026.
Haley also called for McConnell to retire during a CBS interview days after the first freezing incident, arguing that the Republican senator and a host of aging Democrats including 90-year-old Senator Dianne Feinstein and 80-year-old President Joe Biden should "know when to walk away."
The 2024 White House hopeful sidestepped a question about whether former President Donald Trump, 77, would be able to pass her proposed mandatory cognitive test.
A Redfield & Wilton Strategies poll released earlier this month, which was conducted exclusively for Newsweek, found that 64 percent of eligible voters agreed that McConnell should resign from office, while only 8 percent disagreed.