BRAINERD — Unsure of her next steps in life, Mariah Fitch took a leap of faith and went from working in a restaurant to working in an ambulance in about four months.
As emergency medical services programs across the country struggle to find employees, North Memorial Health Ambulance Service has implemented a new program to make it easier to get into the field.
Fitch, a North Memorial Health emergency medical technician, was talking with a friend when she learned of North Memorial Health's EMT training program.
"I didn't know if it was for me," Fitch said on Aug. 14 at Brainerd's North Memorial Health ambulance building. "I just finished my undergraduate degree in biology and Latin American studies and I wasn't really sure if EMS was for me. After talking with her for a little bit, I was like, 'Shoot, it does sound like something I really would like to try.'"
With a lack of applications for open positions, Kevin Lee, manager of the Brainerd North Memorial Health ambulance office, said he started looking for solutions to the problem when he came across a possible answer.
Lee said he found a similar EMS company in Louisiana had a program to send qualified candidates through EMT training at no cost to the student. So Lee modeled North Memorial's program off it.
Like trying to get a job, Fitch said she applied to the program and went through an interview process before being accepted into the program.
"I had applied the first day it had opened," Fitch said. "So I had to wait a long time because of that. Then I heard back, saying that they wanted to tell me more about it before actually accepting it. Which is really nice, because at that point, I mean, I had an idea of what I was signing myself up for but I wanted to know exactly what it was and they were able to answer all my questions."
Lee said candidates need to meet the same criteria and go through the same interviewing process as somebody who already has their EMT certificate.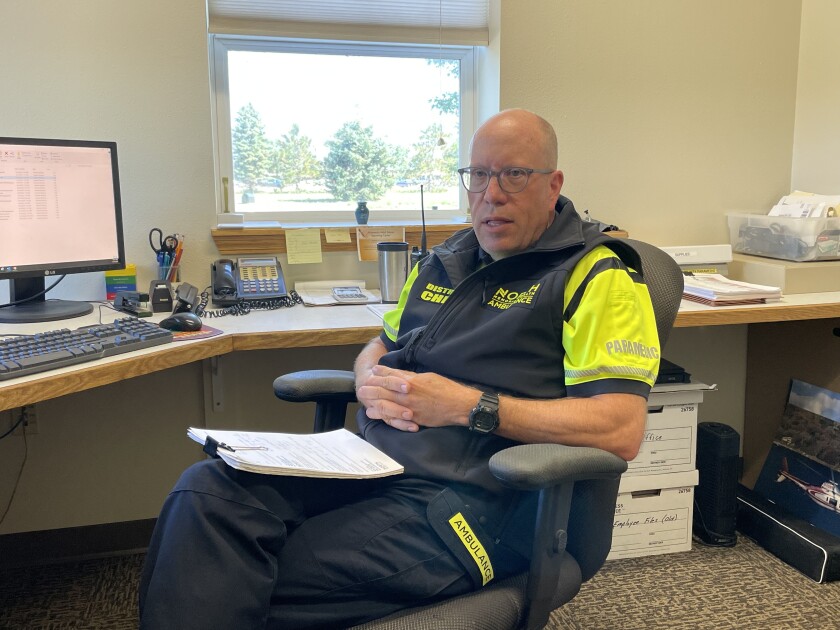 "If we're interested in putting in the program, they go through the exact same pre-employment tests that a regular EMT would go through," Lee said. "They go through a background check, a physical test and they go through drug testing. Yeah, so it's the same exact process for someone that we would hire who already had their EMT with hopes that they're going to end up being a regular EMT for us."
Fitch said she was unsure at first as she was still working in the restaurant and is a new mom, but with the support of her family she was able to make everything work out.
The program meets two times a week online to go through classroom training and then meets every few weeks in person for hands-on skills training.
"I was taking off work for a half day, and they actually paid us to go to class," Fitch said. "And so we would be paid to go there and back. Not only class time but mileage was also paid. Overall, our time was being compensated as they really value our time."
Fitch said there were around nine people in her class, where they learned the basics of anatomy along with lifesaving steps and techniques before they met in person to train in hands-on skills.
"Throughout the semester, you do meet in person so that you can work on important skills, like how to oxygenate a patient, how to put in an oral airway, how to do CPR successfully and trauma assessment skills," Fitch said. "Those skills are tested when you take your NREMT."
The
National Registry of Emergency Medical Technicians
is a certification agency covering the EMS profession.
After passing her certification exam, Fitch went through two weeks of new hire orientation before riding along with a crew to complete her field training. As part of the training program, she is contracted to work for North Memorial Health for one year.
In field training, Fitch said she learned how to use the different systems in the truck and the different processes for working with patients and crews.
"The person who was the field training officer would be in the front, guiding me and explaining things," Fitch said. "Then they get to a point where they're more hands-off and they just let you do it as they shadow you. So basically, you start by following them and doing things and picking up doing things little by little. And then you're doing things by yourself before you know it."
Looking back on the application, training and fieldwork as she prepared to be a full-time EMT, Fitch said she felt like all the hard work she put in over those months finally paid off.
"There are definitely opportunities within North Memorial, and specifically here," Fitch said. "They're super supportive, they're phenomenal staff and they're supportive of your goals. I think if you're considering working in EMS, or it's even crossed your mind, anybody here would be willing to pick up the phone and talk to you about it to see if you're a good fit."
For more information about the EMT program, call 218-829-8767.
TIM SPEIER, staff writer, can be reached on Twitter
, call 218-855-5859 or email
tim.speier@brainerddispatch.com
.