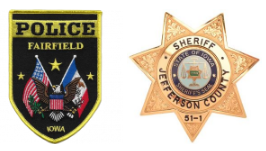 On August 21, Jefferson County Sheriff's Office Deputies Tyler Rysdam and Nelson Torres Rodriguez, and Fairfield Police Department Sergeant William Riegel were recognized with the Heartsaver Hero Award by the American Heart Association for life-saving efforts performed last month.
On July 11, the Fairfield Police Department received a call involving a serious medical emergency in a vehicle on Highway 34 near Fairfield. Sergeant Riegel, Deputy Rysdam, and Deputy Torres Rodriguez arrived at the scene before Emergency Medical Services. After assessing the patient, no pulse was found and CPR was initiated. An Automated External Defibrillator (AED) was also utilized. The patient was transported to the Jefferson County Health Center by Care Ambulance and survived.
Fairfield Police Department Dispatch Supervisor Shannon Pester and Communications Specialist Kate Waller were commended for their work, giving pre-arrival, lifesaving instructions to the 911 caller. Also assisting in the call was the Emergency Medical Technician unit with the Fairfield Fire Department. Fairfield Chief of Police David A. Thomas offered his thanks to everyone involved in the call, as well as all area Law Enforcement and Emergency Medical Service agencies, who perform acts like this on a daily basis.