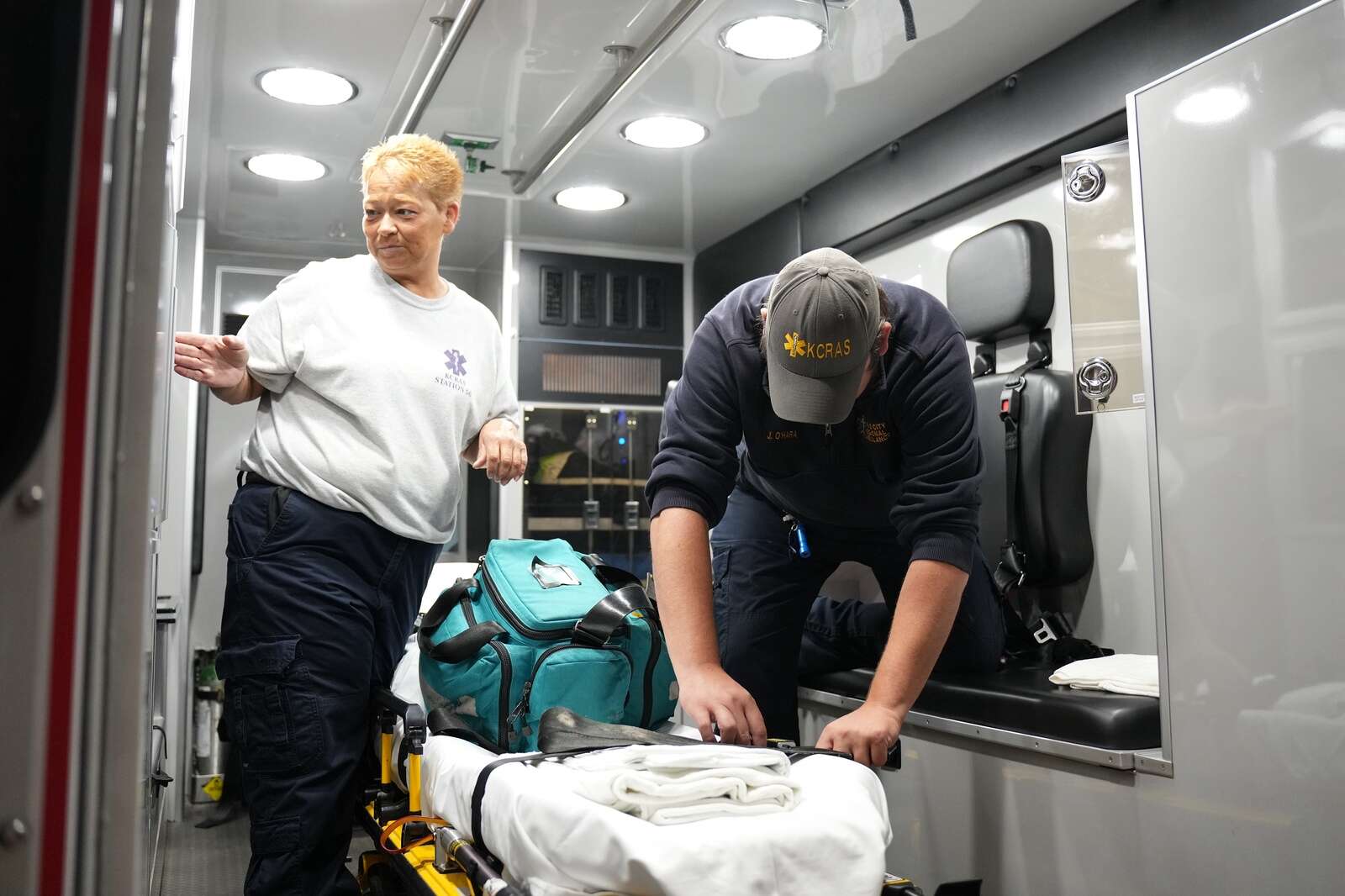 Amy McConnell and Justin O'Hara, of Karns City Regional Ambulance, restock an ambulance on Monday, Aug. 28. Holly Mead/Special to the Eagle
Holly Mead
Butler County commissioners are trying to address a countywide shortage of emergency medical technicians by developing a program that would expedite training and provide some payment to students in the program.
Students would receive a stipend while they are receiving free training that takes less time than existing training programs which last six to seven months. The program could begin in January.
Commissioners briefly discussed the program at their Aug. 2 meeting when Zachary Scherer, of Donegal Township, told them action is needed to solve an "ambulance crisis" impacting the county and state.
He said he heard an emergency radio dispatch about a stroke patient in the northeastern part of the county on the night of Aug. 1, but no ambulances were immediately available.
About 70 minutes elapsed from the time of the dispatch until an emergency medical helicopter lifted off with the patient, he said.
Scherer told the commissioners he knows they are addressing the issue, but stressed that action is needed.
"I don't know what the solution is," he said to commissioners.
Addressing the crisis
Commissioner Kim Geyer acknowledged the crisis and said commissioners are trying to address it.
She said her father, who lives near the ambulance service in Adams Township, suffered a stroke at his home two years ago and waited 45 minutes for an ambulance to arrive from Cranberry Township. He was flown to a hospital.
"You don't realize until you experience it firsthand that there is a crisis," Geyer said.
Commissioners are working with the county emergency medical services council and hospitals on an "academy model" for training emergency medical technicians (EMTs) to address the shortage, said Leslie Osche, chairwoman of the commissioners.
Commissioner Kevin Boozel said the County Commissioners Association of Pennsylvania has been looking into the shortage since 2018 and issued a report this year. He said state legislation is needed to solve the problem.
Osche said ambulance services told the commissioners that speeding up EMT training is needed because current training takes a half a year or more to complete and some drop out because of the time it takes to complete the program. She said the state legislature is not addressing the problem.
She said two problems are hindering ambulance services' ability to hire EMTs: Reimbursement rates from insurance companies are too low, and ambulance services receive no reimbursement when they treat but don't transport a patient.
"Nobody's paying for that cost of readiness," Osche said.
Municipalities are responsible for identifying an ambulance service for their communities, but they don't know how to pay for it, she said.
In a follow-up after the meeting, Scherer explained that the emergency call he mentioned came in at 9:11 p.m. and the helicopter was airborne to Allegheny General Hospital in Pittsburgh at 10:23 p.m.
He said the first two ambulance services that were dispatched for the patient were out of service, but an ambulance from another service eventually responded.
Reimbursement issues
Ryan Hanchosky, chief of the Slippery Rock Volunteer Fire Company and Rescue Team, said the department could use more EMTs, and that getting reimbursement from insurance companies is a problem.
Reimbursement rates are too low, and the reimbursements are sent to the patients, who don't always forward them to the department, he said.
The department is "making it work," but it can take several months to receive a payment for its services, Hanchosky said.
Mark Lauer, president of the Karns City Regional Ambulance Service, welcomes the efforts by the commissioners to train EMTs, but said the need for paramedics who are trained to provide advanced life support care that stroke and heart attack patients need is "dire."
He said the agency has occasionally been out of service for 24 to 48 hours due to a lack of staff.
"The paramedic is the key to success. If I had a core of four good paramedics, we wouldn't be out of service so much," Lauer said.
The service has one full-time and four part-time paramedics, and three full-time and six to eight part-time EMTs to serve 11 municipalities in the northeast corner of the county, he said.
Paramedics are paid $17.75 an hour for working during the week and are offered an additional dollar per hour to work weekends, which pales in comparison to the $25 an hour a paramedic can make in Allegheny County's North Hills area, Lauer said.
Karns City Regional EMTs are paid $13.73 an hour and some have other jobs to make ends meet, and neither EMTs or paramedics receive benefits, he said.
It costs $75 hour to run and staff an ambulance, and "hundreds of thousands" to outfit an ambulance, Lauer said.
Newly trained paramedics and EMTs will accept jobs anywhere to gain experience and then move on to higher-paying jobs, he said. Some paramedics move on to become registered nurses to make more money, he added.
Lauer said the ambulance service files claims in district court against people who keep the money they receive from insurance companies for ambulance bills instead of forwarding it to the service.
He said nine of the 11 municipalities that Karns City Regional covers impose a 0.5-mill EMS tax or make donations to the service.
"They understand the issue. It helps us meet payroll," Lauer said.
He said the state, not insurance companies, should set reimbursement rates, and the commissioners should help find a solution.
"It behooves Butler County to help us financially to continue to maintain advanced life support ambulance service in the northeast corner," Lauer said.
The service has been responding to calls in Armstrong, Venango and Clarion counties because ambulance services there are experiencing the same personnel problems, he said.
A local training program
Boozel, who served on the County Commissioners Association EMS report steering committee, said the county is negotiating a contract to provide the EMT training, and the training program could begin in January.
A firefighter and EMT for the Harrisville Volunteer Fire Company, Boozel said his EMT training was one night a week and took a long time to complete. The program being developed would consolidate the training. Students would then become registered as EMTs and receive additional ride-along training, he said.
The commissioners association report should be used as a model, Boozel said.
The report includes a survey of EMS providers and a study, both conducted in 2022, and supports the concerns expressed by county and EMS officials.
"Without outside (county or municipal support), EMS agencies are limited to Medicare/Medicaid/insurance reimbursement rates which are fixed and have not been updated to keep pace with inflation and the rising costs that EMS agencies face," according to the report.
Another part of the report says: "If the patient refuses transport, there is no payment made to the agency. If a patient transport is made and payment is issued, the payment goes to the insured (patient), who is then responsible to pay the EMS agency directly. That does not always happen."
EMS agencies that participated in the study reported a lack of financial support from their host municipalities. "The Pennsylvania borough and township codes are clear in that the provision of emergency services, including EMS, is the responsibility of boroughs and townships. However, the codes are not clear about how the services are to be provided," according to the report.
"One comment that was heard several times during the course of this project is that municipalities do not contribute financially to EMS agencies because EMS services can bill for their services while fire departments and police departments cannot. However, it is apparent that billing alone is not sufficient to keep EMS agencies solvent and operating, and, in turn, fulfilling the requirements of boroughs and townships to provide EMS service," according to the report.
In addition, the report says that EMS trainees were having difficulty finding training classes that were either conveniently located or offered at times when they were available.
"The Pennsylvania Department of Health, Bureau of EMS advised that there is currently a shortage of EMS instructors, compounding the problem of course availability. It was also noted by some EMS instructors that classes being offered are not being filled and in some instances are being canceled due to lack of participation. There is a disconnect between the class offerings and the potential participants that needs to be addressed," according to the report.
Agencies in the study also said once a qualified candidate is hired and trained, they often leave for better-paying positions with other agencies.
"Over 77% of the survey respondents indicated that recruitment and retention is an issue for their agency. However, over 71% of the respondents indicated that their agency did not have a recruitment program in place, and over 57% of respondents indicated that they do not have some type of retention program in place," according to the report.
Amy McConnell and Justin O'Hara, of Karns City Regional Ambulance, restock an ambulance on Monday, Aug. 28. Holly Mead/Special to the Eagle
Holly Mead
Justin O'Hara checks Monday, Aug. 28, to make sure the ambulance supplies are stocked for Karns City Regional Ambulance. Holly Mead/Special to the Eagle
Holly Mead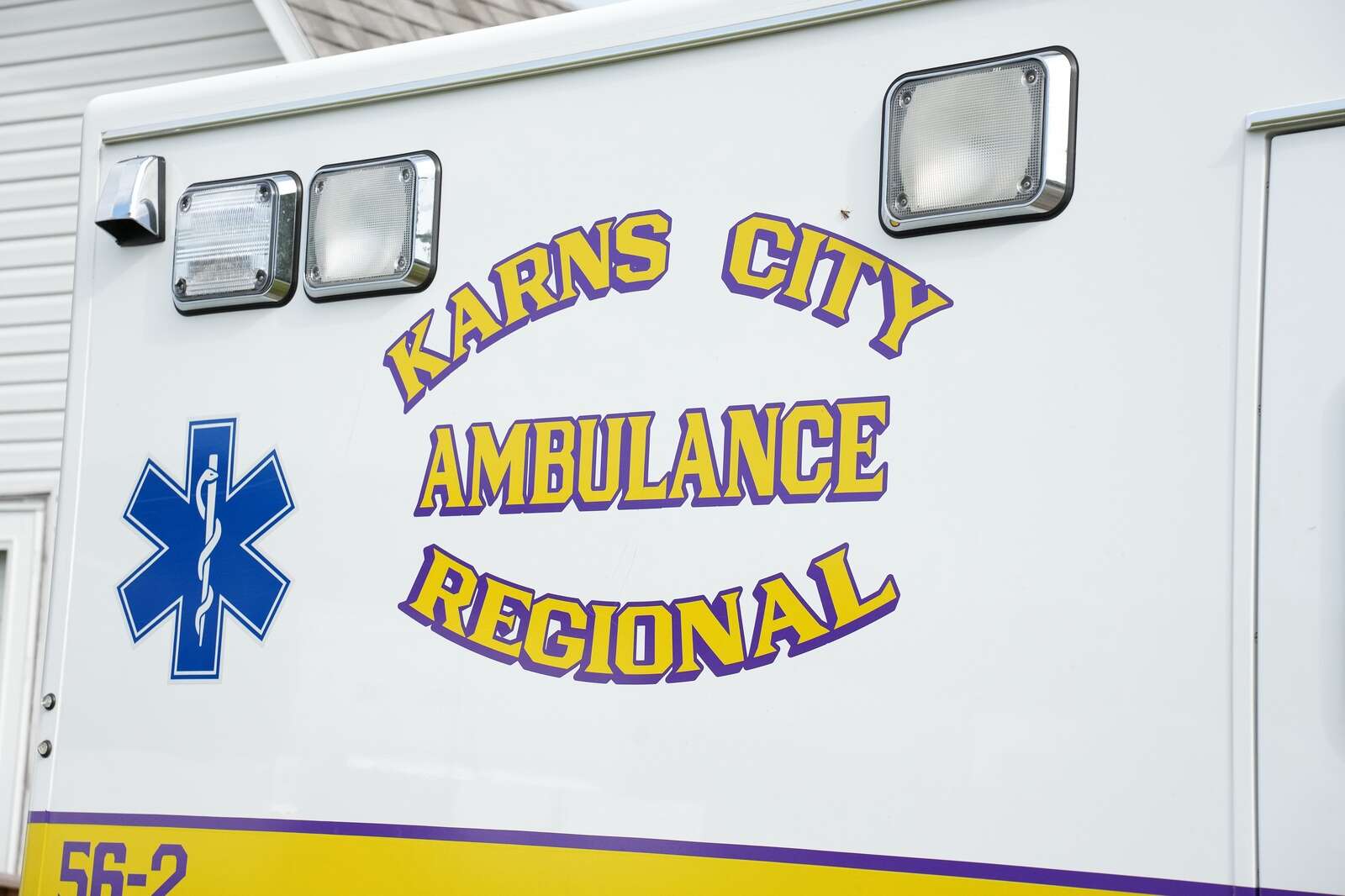 The need for paramedics and EMTs at services such as Karns City Regional Ambulance is "dire," officials said. Holly Mead/Special to the Eagle
Holly Mead
The need for paramedics and EMTs at services such as Karns City Regional Ambulance is "dire," officials said. Holly Mead/Special to the Eagle
Holly Mead