Congratulations McKenzie Laker!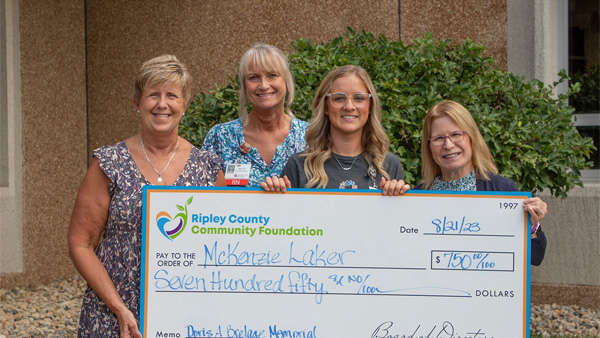 Pictured: Janice Lamping, RCCF Assistant Program Coordinator; Mary Norman, RN; McKenzie Laker and Lisa Banks, RN. Photo by Margaret Mary Health. 
(Batesville, Ind.) – A 2021 graduate of Batesville High School has been named this year's Doris A. Brelage Nursing Scholarship recipient.
Margaret Mary Health and the Ripley County Community Foundation recently named McKenzie Laker as the recipient of the $750 scholarship.
To qualify for the scholarship, students must be a graduate of Batesville High School or be nominated by a practicing nursed at Margaret Mary Community Hospital, be accepted into a nursing school, and demonstrate dedication to both academics and community service.
Laker is currently pursuing her nursing degree from the Galen College of Nursing.
The Doris A. Brelage Nursing Scholarship was established shortly after Doris lost her life in an accidental death in 2008. A registered nurse and EMS member, she worked at MMH, providing care to the residents of southeastern Indiana for 37 years.
More from Local News