ATLANTA – A group of Atlanta VA nurses will rally Thursday morning for better conditions on the job.
The group says they're concerned about patient safety and staffing shortages – saying they are overworked and spread too thin.
The group claims that the vacancy rate for nursing positions at the Atlanta VA Medical Center is more than 18%. In some units, the rate is as high as 25%.
The need for more nurses is an ongoing issue and even sparked another protest at the beginning of 2022.  
"In this facility we have a lot of deputies. We have management among management. But we don't have people who can do patient care. And a lot of nurses are really tired of this. Because you feel obligated to provide the best care you can for our patients," said Florence Uzuegbuname, the associate director of Atlanta VA Nurses United.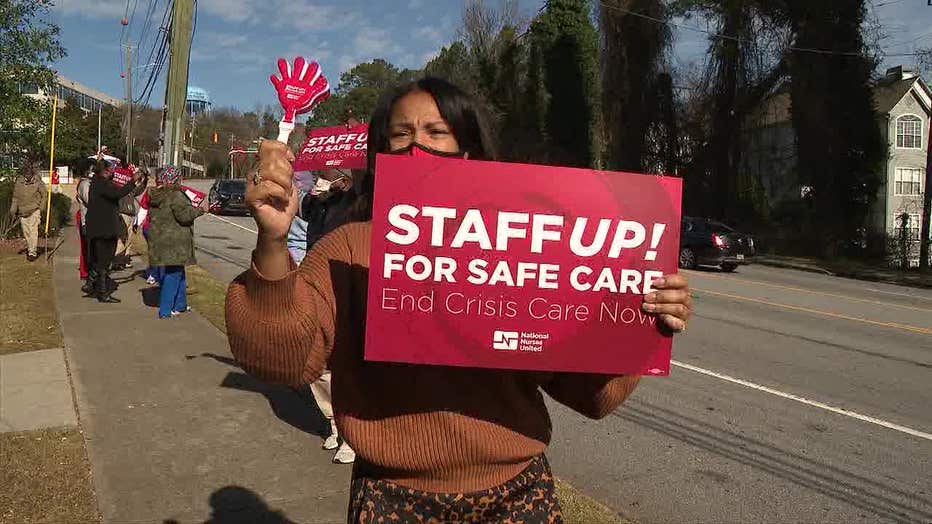 Nurses filed an unfair labor charge against the Atlanta VA hospital with the Federal Labor Relations Board for not ending what they call illegal changes that impact many of them.
One change the group is calling for is a flexible schedule policy.
Other VA facilities and units at the Atlanta VA already use it, and the group says it has been successful.
They say instead of expanding the program to help recruit and retain nurses, management has threatened to do away with the program altogether.
The protest is expected to begin at 11:15 a.m. at the Atlanta VA.